A new novel by Audrey Taylor Gonzalez
Published by SheWrites Press on September 2015
CLICK HERE to order.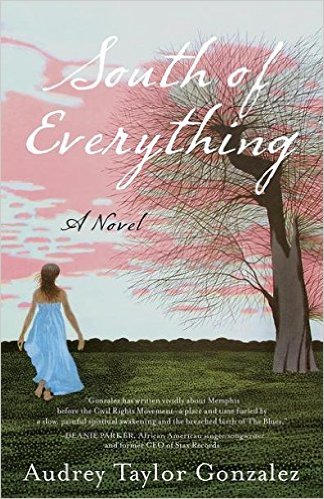 PRAISE
ForeWord Reviews' IndieFab Book of the Year "Editor's Choice Award"
Winner of International Book Award in "Religious Fiction"
Independent Publisher Awards Bronze in "Best Regional Fiction South"
"South of Everything is a triumph, an essential but oft unheard American story…one you won't want to put down." – Amy Friedman, author of Desperado's Wife: A Memoir
"Audrey Gonzalez has written vividly about a place near my town Memphis, Tennessee – and my time also — before the Civil Rights Movement both of which were fueled by a slow, painful spiritual awakening and the breached birth of The Blues." – Deanie Parker, African American singer/songwriter and former president/CEO of the Soulsville Foundation
"Audrey Taylor Gonzalez captures the concrete realities in a family's everyday life, and connects those details to the cultural evolution taking place at that time." – Becca Stevens, author, Episcopal priest, named by the White House as one of 15 Champions of Change for violence against women in 2011; founder of Thistle Farms-Magdalene
"This is a sacred story about love's power to claim and redeem those who are willing to ask questions, look more deeply into the natural world and challenge the status quo." – Elaine Blanchard, author, actor, human rights advocate and recipient of The 2011 Jefferson Award for Public Service
"In the hands of an adroit storyteller, magical realism has always been one of the most truthful and compelling forms of fiction. Here, Gonzales proves herself to be master of both the form and her material. A beautiful book." – Phyllis Tickle, American author and lecturer, founding editor of the Religion Department of PUBLISHERS WEEKLY
"Audrey Taylor Gonzalez has written a magical tale about the realities of religious and racial prejudice, transformed by the author's compassion and depth of understanding of the flawed nature of humanity." – Jimmy Santiago Baca, American Book Award and Pushcart Prize winning poet and novelist 
"The writing is so realistic one can taste the barbeque." – Marygay Shipley, bookseller and former owner of That Bookstore in Blytheville, AR.
SYNOPSIS

"In West Tennessee God forgot his geography…," so begins South of Everything, the story of Missy Sara's life, from the age of six to a moment of enlightenment and rebirth at fifteen. Born to a plantation-owning family in 1940s in Germantown, Tennessee, "an uneventful, unincorporated town of insignificant people, tractors taking up half the narrow roads, big farms…" and a "for whites only" high school, Missy Sara is, like so many other white girls of her era, largely raised by Mammyrosy, the black woman who rocks her from the cradle and who cooks the biscuits her Daddy lives to eat. With her brother (called by the servants "Master Robertelee") and her parents, Sara is served supper by black men wearing white jackets, and like so many others, she watches her mother head off to Junior League and horse shows. But Missy Sara is a quiet rebel.
From youth she adores her Grandfather Reddaddy, who not only takes her to the places girls aren't supposed to go—like Bozos where she eats the best barbecue in the world—but also shares a mysterious and powerful kinship with Old Thomas, the black house servant from whom Missy Sara is inseparable. Indeed, Missy Sara feels compassion and a special bond to all those whom her mother calls 'the servants' and her father calls 'the help," and she is determined not to be cowed or corralled by "the rules."
At the center of the story, out in the far pasture of the farm, stands a mystical tree—the Lolololo Tree—a tree where Old Thomas first takes the children when they're small. Most of Missy Sara's adventures and life-altering experiences happen in the back pasture of the family's Wild Grass Farm, the vast horse farm that stands out for its white fences that line the pastures for miles and miles and the white brick horse barn as long as a train tunnel with stalls so large they can house the Clydesdale circus horses. But it's the Lolololo Tree Missy Sara loves best, a tree that stands as tall as a smokestack with white smoke rings formed by clouds surrounding the top, a tree that, when she walks away a few feet becomes invisible. It's a magical, mystical tree that Sara discovers is wiser than any teacher or parent or priest, a tree that harbors an entire zoo of animals and thousands of stories, with underground quarters for snakes that Old Thomas tames, and hay nests for wounded birds that come to the tree to heal. Indeed, the Lolololo Tree heals everyone and everything.
Beneath the heat of the world Missy Sara inhabits, South of Everything is a powerful parable about the changing South after World War II. In each chapter, Missy Sara's rebellion expands to reach beyond the bounds of the restrictive world her parents (as representative of the Old South) have created. One night in her early teens Missy Sara sneaks out to the New Daisy Theater on Beale Street, a blues club to which whites never venture. In her younger days she takes wild (and forbidden) horseback rides in the back pasture of Wild Grass farm. It is at the Lolololo Tree, throughout her childhood and early adolescence, that she discovers innumerable secrets about herself and about the rest of the world. To her amazement, she falls in love with the man hired to help train the family's prize horses, Mr. Washington, who harbors his own secrets. She mourns her grandfather Reddaddy's passing, but his death only deepens her love and connection to Old Thomas and the future. As Missy Sara's parents cling to the Old South, she reaches out to create a new world, one that embraces all human beings, regardless of the color of their skin or the size of their property.
Like The Help, South of Everything bears witness to a world of prejudice, plantations and rebellion. However, the power of South of Everything, like the power of such magic realist tales as One Hundred Years of Solitude, lies in the magic of Old Thomas's stories, where elements of the miraculous appear natural.