Biography

Audrey Taylor Gonzalez was born in Memphis, Tennessee, in 1939. While still young, she started a career in journalism, working as a fashion editor and art critic for the Commercial Appeal's City Desk as well as other Memphis newspapers. Her TV program "Ask Audrey" on WKNO won a Men's Fashion Association Award.
In 1984, Audrey met and married Sergio "El Oreja" Gonzalez, a professional Uruguayan boxer, and moved to Montevideo, Uruguay, where she founded Stud and Haras de Felicidad, a race horse breeding enterprise.
In June 1995, Audrey was the first woman to be ordained to ministry in Uruguay's history, where she developed a program to comfort aids-inflicted patients and a mission to re-insert prisoners into society for which she was named one of "12 Women of the Century" in Uruguay.
After 18 years living in Uruguay Audrey left in 2002 for Jackson Hole, Wyoming, and took up rock climbing, conquering the Grand Teton, and learning to paraglide.
In 2004, she returned to her native Memphis where she became a deacon at Calvary Episcopal Church in Memphis, which led to her calling as a volunteer probation officer, a CASA (court appointed advocate for abused children) and an Ambassador at Shelby County Juvenile Court in Memphis where she founded the Foster Care Board and Wing (now named in her honor) to care for youth that have been abused, abandoned and neglected. For her work, she received the prestigious Jefferson Award for Public Service, the Juvenile Court Judges Award for Outstanding Service and the coveted Jessie Bishop Award for volunteer probation officer of the year. She was appointed by the governor of Tennessee as a Commissioner on the Tennessee Commission on Children and Youth and has tirelessly worked through institutions like the Soulsville Foundation, Stax Music Academy, and Casey Foundation's Juvenile Detention Alternative Initiatives to keep over 4000 disadvantaged youth out of prison and on their way to an education and a brighter future.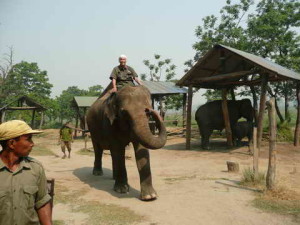 At 68, Audrey traveled from Greenland/Iceland to Antarctic, from St. Petersburg and Wimbledon to Easter Island, Galapagos and Ecuador's jungles, had breast cancer with radiation treatment and two months later trekked to the base camp of Mt. Everest in Nepal, with guide and mentor Jim Williams. Highlights of her adventures are chronicled on her blog, and include tracking a tiger on the back of an elephant in Chitwan National Park in Nepal, and spending a day as a volunteer in the Hospital for Destitute and Dying founded by Mother Theresa in Calcutta.
Audrey is the author of the novel, South of Everything, the fictional memoir The Lolololo Tree,  two collections of writings and homilies, Sermons and Such and The Shady Place, and two collections of poetry – Waiting for Rain, and Hurgadores de la Vida. She holds a Master's Degree in art history and theater from the University of Memphis and a Bachelor of Arts Degree in creative writing and literature from Hollins University.
In October 2015, Audrey finally achieved one of her biggest goals in life – she will be one of the first women to be ordained to priesthood at Uruguay's Holy Trinity Cathedral in Montevideo.
Major Appointments (all volunteer)

Deacon, Calvary Episcopal Church, Memphis, Tennessee (2004-present)
Chairman, Foster Care Review Board of Memphis and Shelby County Juvenile Court (2011-present)
Commissioner : Tennessee Commission on Childhood and Youth (appointed by Governor Halsam, August 2013.
Honored by Governor Halsam of Tennessee for creating the first ever meeting of all Foster Care Review Board chairs across the state of Tennessee (all volunteers) in April 2014. This initiative will continue annually.
Commissioner: CJJC (Consortium for Juvenile Court), appointed by Mayor Luttrell, March 2013
Co-Committee Chairman – JDAI (Juvenile Detention Alternative Initiatives) (Fall 2012) (to come up with resolutions related to the Department of Justice's inquiry into Juvenile Court Methods.
Captain of the Casey Team which evaluated the detention center in Juvenile Court February 2014.
Chaplain, South Main Precinct of Memphis Police Department; beginning 2013 Summer.
Graduated from the MPD Police Clergy Academy, March 2013
Graduate – MPD's Citizens Academy, Fall 2013
Certificate from CIT course – (Crisis Intervention Team with the Memphis Police Dept.) and rides-along with other CIT officers 2-3 times a month to exercise her skills.
Founded We Are Not Alone support group for female police officers dealing with cancer and sponsors monthly luncheons and adventures.
Participant in Sex and Human Trafficking Seminar at Rhodes College 2013; and trainer for Child Advocacy Center's Stewards of Children seminars;
Graduate of the FBI Citizens Academy Fall 2012, member of the FBI ALUMNAI ASSOCIATION
Chairman, Foster Care Review Board Memphis and Shelby County Juvenile Court (2011-present)
Deputy Chief, Auxiliary Probation Officer Program at Juvenile Court
Deacon, Calvary Episcopal Church Memphis, Tennessee (2004-present) Officiate at liturgy.
Chaplain, Com-Car Prison and maximum security Libertad Prison, Uruguay (1997-2002)

Additional Volunteer Work

Current: Boards of Directors for: Tipton County Foster Care Review Board, CASA of Tipton County, and South Memphis Alliance. Mentor to Youth Villages teens in level 4 situations; and mentor for the third year with Grizzlies TEAM UP program, International Advisory Board for Stax-Soulsville, Art Purchase Committee for Memphis Brooks Museum of Art. Member of Commission on Missing and Exploited Children (COMEC), Youth Violence Prevention Commission of Operation: Safe Community, Child Advocacy Center. Worked with a new ministry in Jail East for teens bound over for adult trial.

Recent: Boards of Directors for CASA of Shelby County; Reconation Academy, the girls' incarceration area of Juvenile Court; Calvary Street Ministry and Center for Southern Folklore. Volunteered at Mother Teresa's Home for the destitute and dying in Calcutta. Chaplain of a new program for delinquent boys at Porter Leath 2010.

Education

Certificate in Theology from St. John's College in Nottingham, England, 1995
Master's Degree in art history from the University of Memphis, 1982
Master's Degree in theater from the University of Memphis, 1972
Bachelor of Arts Degree in creative writing and literature from Hollins University in Virginia, 1961

Select Awards

2016 – Honored by the Grizzlies Basketball Team's Exist to Assist at a game in April

2016 – Presented with Honorary Badge by Memphis Police Department

2016 – Her novel, South of Everything, won the following awards: ForeWord Reviews' IndieFab Book of the Year "Editor's Choice Award", the International Book Award in "Religious Fiction" Category, and the Independent Publisher Awards Bronze in "Best Regional Fiction South."

2015  – Completed the minimum miles to receive the treasured certificate for the Camino del Santiago Compostela

2008  – Juvenile Court recognized her with its two highest awards: Probation Officer of the Year (the Jessie Bishop Award) and the Volunteer of the Year for Juvenile Court (the Jeaune Wood Award).

2007  – Prestigious Jefferson Award for volunteer work.

2006  – GOAL Volunteer of the Year at Juvenile Court.

2005  – Outstanding Service to the Juvenile Court; Volunteer of the Year at the Calvary Street Ministry.

2001  – Named one of 12 Women of the Century in Uruguay; Promocion Humana Award for her work in Uruguay's prisons as well as for her work with the police department and the Minister of the Interior.

1999   – the Direccion Nacional de Carceles Premio para Promocion Humana, a special award from Uruguay's Minister of the Interior Guillermo Stirling honoring her life-changing work with prisoners.

Interests

Writing (poet, author, former journalist). Theater. Art collector (modern). Mountain climbing. Repelling. ZipLining.

2012 – SMA citizens special award. Tipton County Award from the Juvenile Judge and CASA.

2011  – Humanitarian Award from the Tennessee Juvenile Court Services Association, the Special Service Award by Judge Curtis Person of Juvenile Court and the first Foster Care Review Board Volunteer of the Year Award.

2010 and 2011  – Outstanding Service Award for Memphis and Shelby County Juvenile Court.

Traveling the world. Horticulture and flower design (member, certified judge World Assoc. of Flower Arrangers; Memphis Garden Club). All things equestrian (currently stakeholder in first woman-owned professional bull riders (PBR) bucking bulls outfit, the Platinum Pistols Bucking Bulls, based in Decatur, Texas). Avid fan of Grizzlies and works to set up special events for her Foster Care children, such as when Tim Tebow spoke for AGAPE in May 2013, and getting Tony Allen to speak to kids in detention, etc.

Sponsored the uniforms for the Law Enforcement team from Memphis/ Shelby County in the 2013 Olympics in Las Vegas.

Judge and volunteer and exhibitor at the Delta Fair, for the past 3 years.

Needlepointed 120 bears for the children of St. Jude Hospital, which are displayed on Christmas trees at the Grizzlies House during Christmas Holidays.