Shoes off for respect, folded up with a pillow at my back, sitting on a home- woven rug of brightly colored strips that is on a gravely floor, outside a home made from crude concrete and granite blocks, no windows, deep garbage bins outside, two toddlers completely in awe or confusion at this strange looking white haired person actually showing her hair, flies getting a bit too obnoxious on my face, the young Bedouin husband in a long brown gown with a white wrapped scarf on his head serving me a small cup of black Bedouin tea, almonds and walnuts off their tree, which he cracked with a hammer, while the wife/mother wrapped in a turquoise blue gown and printed scarf hiding everything but her face – kneaded the beginnings of my very favorite bread in the world – called Shrak – cooked on a homemade gas grill (a Saj) that looks like an upside down wok and the woman after kneading the dough of water and flour for a long time, then rolling it out thin, is skilled at throwing the rolled dough back and forth from arm to arm until it has stretched thin enough and much larger than a large pizza to put on the grill. then the dough is lifted off the metal grill with a thin wire thing, and flipped about a dozen times as it cooks just right. We are at the foot of Mount Sinai in Egypt. What more could one seek in this world – peace, hospitality, family, the odor of roasted bread dough, trays of fresh white cheeses mixed with herbs, chopped veggie salads (tomato carrots, cucumbers, bell peppers) also in olive oil and lemon juice – a meal that was just what a weary toss up of aged trekkers needed- to restart their energy and complete a tough adventure to the Sinai Peninsula so rich in our Biblical history.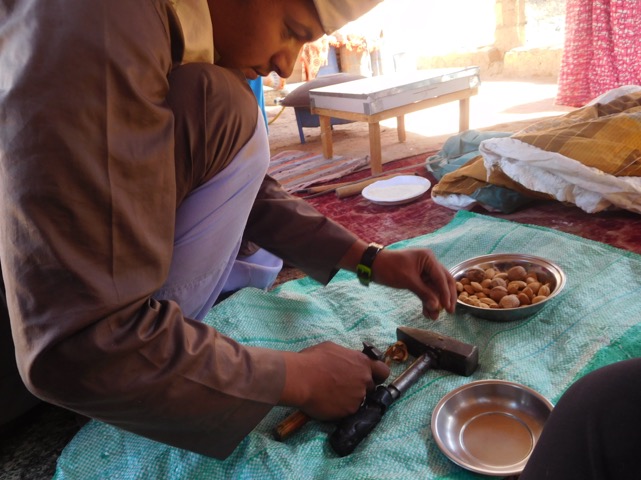 We had come to the end of a three week pilgrimage, the destination of which from the beginning planned a year ago was to reach St. Catherine's Monastery, and to stand face to face in front of the treasured Icon of Christ, the oldest one in existence, and the most real concept of the son of God. This meant traveling to an area of Egypt considered controversial, dangerous, where ISIS bombed a Russian plane out of the sky a year ago and so direct flights from Europe had been stopped; where the Brotherhood of the Muslims hang out on the Mediterranean side of Sinai (up south, they say here) although our destination was the Red Sea where the Gulf of Suez and Gulf of Agaba come together on the lower end of the point to form probably one of the last richest coral reefs unspoiled by man, yet, and nearby coves of masses of mangrove trees rooting upward. It is an hour flight on Egypt Air to reach the resort of Sharm-el Sheikh, a resort town that was growing in giant leaps and overflowing with tourists until the terrorist attack left it almost empty of visitors. And from here, one must take a three hour hard, fast drive into wilderness of red, tan, blue, white rock, (some compare it to southern Utah) that finally ends at St. Catherine's Monastery in the desert of Sinai at the foot of Mt. Sinai.
In that monastery resides the most real icon of Jesus Christ (Christ Pantocrator) I have ever known, one I became acquainted with when pursuing my masters in art history. I've seen it in magazines and art books. But until one can stand face to face in front of that icon and seen the real Jesus, the dark haired, olive-skinned, green black eyes of our Savior – as he stares at me the penitent, the sinner, the believer – and I can stare back into his eyes (since his head is life sized) there is a moment when I knew, "Yes! He is." This is probably the most treasured Icon anywhere in the world. And to see the encaustic, the thick gesso on the wooden panel, the colors, the power of his eyes, his face made in such a way that his right side (looking out) is of his divine self and the left side is his human side, is extraordinary and takes one's breath away. This was it. I have seen Him.
This all started with a challenge that I wasn't going to let terrorists or anyone stop this probably last pilgrimage for my God. In the modern era of ISIS and bombs and terrorists who think nothing about knocking an airplane out of the sky, kidnapping the innocent, killing a busload of innocent people, or setting off bombs at a marathon, we are closing our doors to opportunities and knowledge about the true way others live and that 99 per cent are good friendly welcoming folk just like ourselves, or we have been in history. It s a travesty and a tragedy all in one. We cannot be afraid. Then the enemy has won.
And this is why I set out on the journey this August – to prove there is still humanity in the world, there is still friendship, hope, love, and joy. And we need to support the damaged nations which are suffering so much from the crash of tourism, nations that really really count on tourist so they can stay alive. It is also an amazing time to travel because so often you are the only person on the spot, or at least there are no lines. It was as if God opened the door and said it's your turn, do it. (He knows I don't like lines nor crowds.)
There was another connection. I had spent two years at St. Catherine's Episcopal School for Girls in Richmond, Va. in 1957-8. This was named for the same St. Catherine of Alexander who had, against many odds, pursued deep study of philosophy, the arts, and so many subjects at a time when this was not a woman's prerogative. We were taught to be women of the future, not women of the past, and our motto was: "Help us o God to remember through the example of Jesus Christ that what we keep we lose and only what we give remains our own." So at this late date in my life, it was a time, a moment in time, to give homage to the great saint who was so much a part of my youth.
The drive from Sharm el Sheikh meant being present in a film of natural beauty, mountains of rocks, beige, coffee, green, blue, pink – like Grand Canyon on steroids. A single road winds for about two and a half hours through the wild and crazy rock formations. There are many military and police stops and check points to see documents, to see who we were, to see if there was anything untoward in the van, a dog sniffing at times, to see if we were safe to let through until we reached the monastery. We actually had a police officer in our car (they must ride with the vans carrying tourist to settle any kind of problem) but we still had to go through the process of showing papers to the young military officers before they'd lift the barricades. Before one can enter any site, church, hotel, city, town or monastery anywhere in Egypt there are stops to check on if stops were made. But one doesn't worry. I just prayed we would get to the destination. This is more reassurance than getting irritated at someone doing his job. We the tourist are being protected. And it is now the norm in all the countries included in my pilgrimage. And I have been grateful. I sympathized for the lonely military or police far from any luxury like bathrooms, cell towers, commissaries for a snack, often only one or two at the mostly remote blocked areas. But we reached our destination and I reveled in the rich Icons that only St. Catherine's Monastery contains and in excellent condition. No photographs are allowed, so the memory must snap as much as possible.
Another hope on this hot but clear blue sky day was to take a stab at climbing Mt. Sinai, the holy place where Moses was given the Commandments by God, commandments accepted, respected which became the guidelines of the three great religions of God, although the aftermath, the golden calf indulgence by Moses' people, put a clink in righteousness. Sinai is a doable climb, but not midday – the old African saying only fools and Englishmen go out in the noon day sun – although we actually started out in the mid day sun with the plan to ride camels (really dromedaries) up to the point where there were 780 steps to be climbed on foot to the top. I was good with that, step-climber I am, having ridden camels pretty successfully in my encounters with them. This beast, led by a child, and groaning about wait time for a passenger, was saddled with a rig that would fit a 6-year-old. The space for the human body was no more than six inches, and my hips-stomach-rear area is more than six inches deep. And the saddle horns (there are two, one in the front and one straight up the spine in the back) had no padding, like they should, and were pressing me so hard that every step the camel took was like a shock of electricity. I tried to rearrange my bottom and my hip and sit at angles, and all sort of things, until I couldn't take it anymore. At the time we were sloughing it up rocks down a pretty decent road ascending in zigzags to the top of Mt. Sinai. I yelled out, can't do it anymore if they cannot pad this thing. No one could pad it. There was no padding to be had. So, camel down, front legs, then back legs, and I hobbled off. It was too hot, and too tough a climb for one not prepared for this. We dumped the camels and decided to walk back down the mountain and call it a failure but a good day because I had been nose to nose with the Christ Pantocrator and with so many other icons like the Stairway to Heaven, and the Coptic Last Supper and beautiful treasures and antique Bibles like no museum has in its stock. Meanwhile the local guide had arranged that bread making tea in the home of a very modest Bedouin family and that made good sense. I was thankful. God always sends an alternative when needed.
One of the biggest draws in Sharm el Sheikh is snorkeling and deep sea diving in this virgin area where the water is bluer than heaven and the sky its mirror. We stopped by a small shop to get gear – the swim fins, wet suit, lifejacket and mask and snorkel – and then drove to the very point in Ra's Muhammed National Park where there are coral reefs that have hardly been touched – beautiful golden fans of reefs through which spunky blue fish and yellow.black/white striped ones and blow fish, clone fish and stingray mantas swim without a worry. They don't scatter when we invade their paradise, they come to see what kind of fish we might be. The water is so fresh, so clean, and contains 38 to 42 percentage per liter of salt, which is the second most salty sea after the Dead Sea – but OMG how wonderful it feels on your skin, (if it can get thru all gear) and the hair and the face – like being cured of something whatever you might have while loving the treatment.